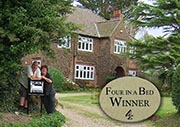 Picaroons B&B
31 Holt Road
Sheringham
Norfolk
NR26 8NB
Tel: +44 (0)1263 825042

Picaroons Bed and Breakfast is an impressive house built in classic 1930's style and situated within lovely grounds. We have plenty of off-street parking and we're only a 10 minute walk into the town of Sheringham with its great shops, restaurants and pubs which means you can experience everything Sheringham has to offer and still enjoy a peaceful, relaxing stay.
It is only a 15 minute stroll to the sea and a Blue Flag beach.
We are perfectly situated just half a mile from Sheringham Golf Club.
We are very proud of our three Kingsize en-suite guest bedrooms, Lobster, Crab and Scallop.
All three offer an air of calm tranquillity with views of the sea. We have gentle, ambient lighting in all the rooms with additional adjustable task lights for your convenience.
The rooms are fully Wi-Fi enabled and the 32″ Flatscreen TV 's have access to all the Freeview channels, internet and radio (you will need to bring your subscription details for Netflix and Amazon Prime) .
The rooms are furnished with clean, crisp white linen and for added comfort we offer different tog weight duvets depending on the season. In a warm Sheringham summer we provide a 4.5tog duvet. As it gets colder we up this to a 9tog. If it turns really cold we can join them together for a cosy 13.5tog.
There is plenty of space to hang your clothes, lots of room for toiletries and everyday paraphernalia and, for your convenience, there is a hairdryer, bedspread and full length mirror.
Please ask if you need to borrow an iron and ironing board.
Please help yourself to the complimentary beverages. To avoid single use plastics we have moved from bottled water to an insulated jug which can be filled as required from the chilled water dispenser on the landing.

We believe there are a few key elements to ensure a pleasant and memorable stay:
* An excellent night's sleep in a safe and comfortable environment
* A great shower
* A tasty breakfast with plenty of choice
* Hosts who work hard to make your stay as enjoyable as possible
We have based our approach on what makes us happy. We believe that that falling short in any of these elements can adversely affect your whole day.