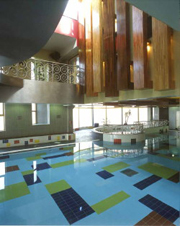 Osprey Hotel & Spa
Devoy Quarter
Naas
Co. Kildare
Ireland

Tel: +353 (0)45 881111
Fax: +353 (0)45 881112

The Osprey complex, located in Naas, Co. Kildare is only 35 minutes from Dublin City and close to all major routes. It includes the four star Osprey Hotel, Osprey Spa, Osprey conference centre, Osprey Business Campus, life: health + leisure and time: bar + venue.
Life's little pleasures are so often overlooked. Your little pangs just give way to the order of things. From the chocs we leave on your pillow, to the use of our health and leisure facilities, our spa, bars, restaurant and courtyard as well as our outstanding entertainment venue, we feel certain that you'll enjoy your stay.
Designed with our guests in mind, our rooms have everything you
should ever need. From tea/coffee making facilities to complimentary
WiFi. Most of our rooms have separate showers and baths have neck & shoulder support for extra deep soaking.
Whether you're catching up with friends after work or meeting
business clients, our bar is the perfect place. With a capacity for 450 people our bar can cater for all. Sit back and relax in a fun and vibrant atmosphere. Dine indoors where our extensive bar food menu is available daily or dine al fresco in our great outdoors courtyard.

Statler bar + Waldorf Lounge stretches to an astounding 20ft in height.
The bar which is made of granite and walnut consists of several
individual display boxes that house an array of spirits from around the world. A floating carved staircase leads to the mezzanine Waldorf Lounge, the ideal venue for a private drinks reception.