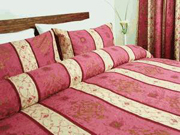 Orley House Bed & Breakfast
Bryanstown
Dublin Road
Drogheda
Co Louth
Ireland

Tel: +353 (0)41 9836019

Orley House Bed & Breakfast encompasses the very best in hospitality and professional service and guest comfort facilities.
Within Orley House we have luxurious accommodation facilities including a conservatory breakfast room all to be enjoyed by the guest.
The tasteful details of the interior add to the comfort of Orley House. Our professional and friendly service ensure that your stay at Orley House will be a pleasant and memorable one.
We provide all the usual facilities with a few extra touches, setting standards of excellence we pride ourselves on offering hotel quality at bed & breakfast prices.We have a beautiful conservatory room where you can relax and feel at home.
A wide selection of evening meals are also available and can be booked in advance. Alternatively, award-winning restaurants are just a short stroll away.
With over one quarter (almost 400 courses) of Ireland's golf courses situated in the east coast & midlands regions where better to enjoy a golfing break than Drogheda. At the Orley House we can tailor make a golf package to suit your requirements and numbers. And remember with the Scotch Hall shopping experience we offer the perfect location for the golf widows too. So if its a group of dedicated golfers or a group of golfers and partners who don't golf but like to be entertained too then Drogheda could be your perfect destination......
Golf Package Specials
Get Good Tee Times And Take The Hassle Out Of Organising Your Golf Trip To Ireland.
Nights Out ...... Restaurants Pre Booked ..........Night At The Greyhounds In Dundalk
2 Nights B&B 1 dinner plus round of golf at Baltray / Seapoint
5 Nights B&B 2 dinner plus 5 rounds of golf at Baltray / Seapoint / Laytown & Bettystown/ Ardee / Dundalk
5 Nights B&B 3 rounds of golf at Baltray / Seapoint / Laytown & Bettystown/Ardee /
7 Nights B&B dinner plus 5 rounds of golf at Baltray / Seapoint / Laytown & Bettystown/Ardee / Royal Tara
7 Nights B&B 4 rounds of golf at Baltray / Seapoint / Laytown & Bettystown/Ardee / Balbriggan / Skerries / Dundalk
As with with all tailor made packages we can prebook all dinner reservations , you wont be dissapointed.
Please Email info@orleyhouse.com or call 041 - 9836019 with all your requirments and we get back to you with are our very best quote
Ireland has established itself internationally as a major golf destination, particularly in recent years with the hosting of major competitions such as the American Express World Championships in 2002 and the Ryder Cup in 2006.
Ireland is best known for its wonderful links courses – and possesses almost 40% of the world's genuine links. Some Irish links courses have been around for over a hundred years, while others are modern developments created to fit the landscape from which they are carved. Some are internationally renowned, while others – the 'hidden gems' – are waiting to be discovered.
Top World and European ranked golfer Padraig Harrington says: "I'm not surprised at this latest recognition for Irish golf. I play all over the World and in my experience Ireland's whole golfing package in terms of choice and quality of courses, combined with that distinctive Irish welcome, is something special".
Ryder Cup 2006 - We are less than one hours drive from the K Club