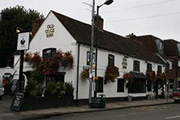 Old Cock Inn
58 The High Street
Harpenden
Hertfordshire
England
AL5 2SP
Tel: +44 (0)1582 712649

The Old Cock Inn is a traditional 16th Century pub with a relaxed ambiance where anyone and everyone is welcome. The menu is reasonably varied serving homecooked food and daily specials, this attracts families and professionals at weekends and during the week. There is a reasonable amount of outside seating which is set away from the main high street of Harpenden for a more secluded drink on warm summer night.
Food:
Food is available at the following times: Breakfast - open 7 days a week, Monday to Friday (7 until 12pm) and Saturday and Sunday (8am until 12pm) Main menu food - served everyday, from 8am till 9pm. Monday to Sunday. Homecooked food and daily specials available- Choose from Home-made Beef in ale Pie, Porterhouse Steak, Sunday Roast and much more.
Bar Meals:
Homecooked food and daily specials served Monday to Thursday 11am to 9pm. Friday & Saturday 11am to 6pm & Sunday 12noon to 8pm.
Real Ales:
Selection of cask ales available.
Wines:
Selection of wines from around the world available by the glass and bottle
Other Facilities:
Disabled Access
Children Welcome
Garden
Accommodation:
6 Newly appointed King Size Boutique Style Bedrooms with en suite bathrooms, Free WIFI, Room Safe, Iron & Ironing Board, IPod Docking Station, complimentary Luxury Toiletries & Room Service. Rates vary depending on the room so please contact the pub details.