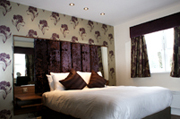 The Old Barn Inn
Magor Road
Llanmartin
Newport
Gwent
South Wales
NP18 2EB
Tel: +44 (0)1633 413382
Fax: +44 (0)1633 412804

The Old Barn Inn dates back to the early 1750's and has its own delightful rustic heritage and charm. Located within a few miles of the famous 'Celtic Manor Resort', home of the 2010 Ryder Cup, it's a perfect base for our guests to share in the local history; giving you the opportunity to create your own memories of South Wales.
Imagine a tranquil countryside setting amongst rolling hills, fields and pastures; an historic Country Inn, a gathering place where every evening the day's events are relived and stories cherished over the embers of a crackling fireplace.
The Old Barn Inn has new luxury accommodation, which has been sympathetically built to be 'Inn Keeping' with the Old Barn itself. There are 14 individual 'character' bedrooms all with en-suite facilities. Furthermore there is the bespoke 'Penhow Suite' with fantastic views from its own balcony, plus a sumptuous bathroom with its own television! It does a great '5 star' job of sparkling any romance.
Each room is tastefully decorated with modern 'chic' bespoke furnishings, each with its own 'nooks and crannies'. With warm lighting, the luxuriously appointed rooms are perfectly contrasted to the rustic interior of the Old Barn Inn itself.
All the rooms can be individually heated to your own taste. They are elegant, cosy and comfortable. Great attention to detail is very evident with adequate storage, well-lit make up areas for the ladies and a comfortable chair for you gents to read the morning paper.
Experience the intimacy of our separate dining rooms, renowned for it's candlelit dinners and 'alfresco' eating. Dream about those lazy summer days at the Inn, watching the horses and wildlife in the adjacent countryside or simply enjoying the nightly stargazing on the patio.
Fine food has been a long-standing tradition at the Old Barn Inn. Our highly experienced Chefs prepare both Welsh and Contemporary cuisine using local suppliers and organic products.
The delicious fresh 'home-cooked' menu is changed four times a year and focus's heavily on originality and 'working' those taste buds! There is even a dedicated vegetarian menu, which is as interesting as it is delicious. Children's meals are also available on request.
The Celtic Manor Resort, home of the 'Ryder Cup' in 2010 is under ten minutes away from The Old Barn Inn Llanmartin. Furthermore, there are numerous Championship Courses within a twenty minute drive – our own courtesy coach is available for our clients.
You couldn't be in a better place to plan your 'golfing extravaganza'. The region boasts some of the best golf courses in Wales; with many rivalling any in the UK.
In fact 'The Celtic Manor Resort' can be seen from the rear patio of The Old Barn Inn! The complex has three championship courses and apart from hosting the Ryder Cup in 2010 it has also been the venue for the Welsh Open Championship for many years.
Other notable 'must plays' are Marriott St. Peirre Golf and Country Club, Rolls of Monmouth, Newport Golf Club, Whitchurch (Cardiff) Golf Club and The Vale Hotel 'National' Golf Course and Country Club.
Apart from our courtesy coach, we also have our own golf equipment drying room and large secure storage. The whole site has a state of the art security system! Please note that no golf equipment is to be taken into the accommodation complex.