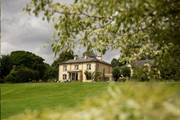 The Mustard Seed at Echo Lodge
Ballingarry
Co. Limerick
Ireland

Tel: +353 (0)69 68508

Nestled in the county Limerick Countryside, close to Adare, is the Mustard Seed at Echo Lodge. Set on ten acres of gardens, the stylish country house provides luxury accommodation coupled with the world renowned restaurant. Located ten minutes from Adare, the Mustard Seed at Echo Lodge is also close to Shannon Airport, a 40 minute drive. The Mustard Seed is the only Co. Limerick Blue Book House and is the ideal base for a vacation in the South West of Ireland.
This luxury country house Adare oozes style without pretention. The house combines the spaciousness and elegance of an earlier age with The comfort and amenities of today.
The Mustard Seed Country house has 16 guests rooms all individually designed and each with its own unique character. Rooms are stylish and comfortable combining modern facilities with old world charm.
The Mustard Seed Restaurant was first opened as a fine dining restaurant in Adare in 1985. The restaurant was soon to become the most recommended restaurant in Limerick serving award winning food in Adare village. After 10 years of success, Dan Mullane moved his fine dining restaurant into the heart of county Limerick to the stylish country house, Echo Lodge where it continues to flourish. Head Chef Angel Pirev carefully creates the four Course table D'hote menu to reflect the availability of ingredients with each season. The busy dining room welcomes residents and non-residents and has long been highly acclaimed for attracting lovers of good food and fine wines from all over the world. May 2010 marked 25 years of the Mustard Seed restaurant.