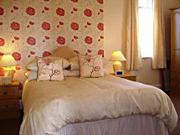 Morwendon House
Llanaber
Nr. Barmouth
Gwynedd
Wales
LL42 1RR
Tel: +44 (0)1341 280566
Fax: +44 (0)7092 197785

Morwendon House (meaning "white wave of the sea") is a high quality licensed guest house which is located in the quiet village of Llanaber on the west coast of North Wales directly overlooking the beautiful Cardigan Bay.
Llanaber is situated approximately 2 miles from the holiday town of Barmouth and just within the south west corner of The Snowdonia National Park, providing easy access to many holiday pursuits (beaches, fishing, golf, walking, sailing, cycling, mountain bike riding and horse riding) and has ready access to mountains, steam railways, slate quarries and historic castles such as Harlech Castle and Conwy Castle.
Morwendon House provides an ideal base from which to explore the delights of this beautiful part of Wales which may include the outstandingly beautiful Mawddach Estuary as featured in Julia Bradbury's Railway Walks
Teresa and Geoff are your hosts at Morwendon and will personally ensure that everything possible is done to make your stay relaxing and comfortable. For a taste of quality living in superb surroundings Morwendon House will fit the bill perfectly.
Morwendon House provides ideal seaside holiday accommodation in Mid Wales, has ample private off road car parking. The house has been lovingly maintained and offers guests a spacious drawing room, a delightful dining room - both with sea views and six bedrooms, all of which are en-suite and all with views of the sea. Everything you need to relax and enjoy the perfect holiday, spectacular sea views, amazing sunsets, dolphins and porpoises in the bay, fishing and boating trips from the bustling harbour down in Barmouth, the quaint ferry across the estuary to the narrow gauge Fairbourne railway, drinks on the terrace and just a five minute stroll down to the beach. Just wonderful!
Morwendon House opened in October 2006 and following an un-announced overnight stay the AA Hotel Inspector awarded "Morwendon House" an AA 4star rating for Guest Accommodation and also a "Pie" symbol for food. This is awarded for food which in the opinion of the inspector was above the standard one would normally expect for accommodation of this rating. In November 2007 this award was supplemented by the addition of the "Eggcup" award for above average breakfasts to go with the "Piecrust" for evening dinners.