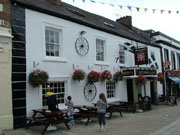 Molesworth Arms Hotel
Molesworth Arms Hotel
Wadebridge
Cornwall
England
PL27 7DP
Tel: +44 (0)1208 812055

The Molesworth Arms Hotel is an attractive 16th century coaching inn that offers a great atmosphere, comfortable accommodation and excellent food.
Located in the picturesque market town of Wadebridge, in north Cornwall, The Molesworth is a popular venue for locals and visitors. Whether you are planning a Cornish getaway or just popping in for a quick pint, the Molesworth is the perfect retreat.
We offer a large selection of drinks, including traditional Cornish real ales, and our new and improved menu presents a selection of delicious and hearty meals.
This wonderfully charismatic hotel offers comfortable lodgings; whether you're looking for the perfect Cornish getaway or visiting on business. Each of our fourteen rooms include en- suite facilities and are equipped with all of the amenities to make your stay with us enjoyable and stress free. Enjoy breakfast in our restaurant; a variety of cereal, fresh seasonal fruit, yogurt and toast is available, not to mention our sizzling traditional Cornish breakfast.

For those of you wishing to get the most out of your break, you may like to try one of our holiday packages, which offers seasonal deals on rooms and sporting breaks including Golf, cycling, walking and fishing.
The hotel is close to all local services, shops and restaurants. Minutes walk from the famous camel trail, sports arena, cinema and childrens play park. The Molesworth is great for both families and couples.