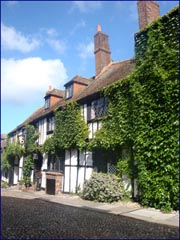 Mermaid Inn
Mermaid Street
Rye
East Sussex
England
TN31 7EY
Tel: +44 (0)1797 223065
Fax: +44 (0)1797 225069

One of England's oldest and loveliest inns, with norman cellars dating from 1156, the Mermaid, rebuilt in 1420, offers tradition and charm in abundance.
A jewel in the crown of Rye, the inn has a wide range of accommodation including rooms with four-poster beds and fascinating secret passages. The lounge bar boasts of one of the largest open log fires in the country. The AA Rosette restaurant offers fine British and French cuisine and the head chef is proud to use only the freshest of local ingredients.
The Mermaid has 8 four-poster bedded rooms, 15 double / twin bedded rooms, 5 family and 3 single bedded rooms.
The Elizabethan Chamber, a large panelled room with a magnificent carved four-poster bed, is our most requested room for the true romantics, whilst our Dr Syn's Bedchamber conceals a secret stairway behind a bookcase. In the other bedrooms, the story is repeated fine panelling, Caen stone fireplaces and latticed windows.
The second-storey rooms are particularly intriguing with the curved timber supporting the ceilings. The dormer windows afford a unique view of the red-tiled roofs of Rye.
Four rooms are particularly requested,especially at Halloween, due to the Ghost Stories attached to them, dating back to the 18th century, when smuggling was at its height. (The Mermaid appeared on the first ever series of 'Most Haunted')
Our award-winning restaurant offers the best of British and French Cuisine, and our Head Chef prides himself on using only the freshest local ingredients. The Linen Fold, Panelled Restaurant, with Medieval Artwork by the Slade School of Art, is an extremely romantic setting for fine dining.
The Lounge Bar is one of the most fascinating rooms in the Hotel. A huge,open,log fireplace, possibly one of the largest in England, has a vast beam that spans the whole width, supported on stone piers.