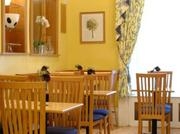 Melita House Hotel
35 Charlwood Street
Victoria
London
England
SW1V 2DU
Tel: +44 (0)20 7828 0471
Fax: +44 (0)20 7932 0988

The Hotel is centrally located in the heart of London, five minutes walk from Victoria Station. Established in 1972 it is still owned and managed by members of the Gabriele family.
Great pride is taken in treating each guest as an individual and on creating a warm and friendly atmosphere. Newly refurbished, great value, well appointed and friendly family hotel - located in central London close to all major attractions.
High speed wireless Internet throughout. TV lounge with all sports channels on Plasma TV.
3 star rating is your guarantee ofquality and the hotel has extensive facilities for a hotel in this category.