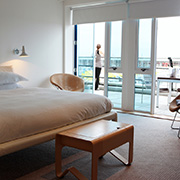 Malmaison Brighton
Brighton Marina
Brighton
East Sussex
England
BN2 5WA
Tel: +44 (0)1273 041482

There are big plans for this beautiful property on Brighton Marina waterfront, the latest hotel to become a Malmaison. Currently decked in modern vibrant decor and retro pop art, the hotel has a style all of its own. Over time we aim to bring this exciting building in line with Malmaison's superb standards and personality, whilst sensitively keeping those artful individual touches that already make a stay at this fantastic Brighton hotel so unique.
The hotel is already in the perfect location in Brighton, offering current guests the best views the Marina has to offer whilst still enjoying close connections to the vibrant local nightlife.
We've already introduced Malmaison's superb menus, so you can enjoy divine Mal Classic dishes in a unique restaurant setting with floor to ceiling windows and views over the water. Or if the waterfront is making you thirsty, feel free to dive straight into one of Mal's famous Malchemy cocktails in the lounge overlooking the Marina, or take it outside to our water-facing boat terrace to catch a glittering ocean sunset.
With a great team and big plans in the future, yachts aren't the only impressive things on the horizon for this exciting hotel.
The Bar at Malmaison Brighton has a style of its own. It's spacious, light and very relaxed. It's where you can savour the aroma of your morning coffee, meet friends for lunch, or sit out on the deck to watch the world go by below.

It's time to relax and unwind in our own little slice of heaven.We want you to enjoy the exclusive atmosphere, sensational cocktails and eclectic design that all help to make our bar special. Enjoy fabulous views of the marina – the bar has floor to ceiling windows – and a large decked terrace.