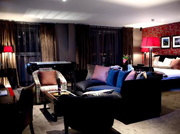 Malmaison Aberdeen
49-53 Queens Road
Aberdeen
Scotland
AB15 4YP
Tel: +44 (0)1224 507097

So you're in Aberdeen, perhaps on business, maybe on a golf tour, definitely ready to relax and kick back in Aberdeen's most sought-after boutique hotel, bar and brasserie. You explore. A low-lit den of Champagne, wine and cocktails, big deep sofas and a whisky snug. The brasserie is cavernous with open kitchen, intimate booths and its own butchery. This is no ordinary brasserie, this is no ordinary hotel.
The fun continues in-room. Lying back on a bed that could accommodate your entire clan you flick on the plasma tv and breathe a sigh. In no time at all you've swapped the tarmac of Gatwick for the gorgeousness of the Granite City. Clever you. Dinner is your reward. But not before a long soak in the tub.
Find yourself on the super-slinky side of the Granite city. Gigantic bed, flat screen plasma TV, showers with super-powers and toiletries that are yours for the taking. Amid a flood of tartan, velvet and a splash of celtic rock'n'roll the new Dons of hospitality have arrived. Now there's an offer you can't refuse?
There is another kind of liquid gold that runs through this town. It starts at the Mal. From this low-lit den of superstar wines, spectacular Champagnes and whisky for true spiritualists flows our liquid gold. You prop yourself up against the bar as your mojito life-line is thrown to you. The night closes and you eye up a devastatingly smooth single malt from the Whisky Room. You gesture to the waiter as a metal key opens up whisky heaven. You just struck lucky.
All our rooms have the complete set of Mal ingredients - great beds for sleepy heads, moody lighting, en-suite bathrooms with baths and power showers, digital TV, serious wines and naughty nibbles. Other little luxuries include same-day laundry, exclusive toiletries that you're encouraged to take with you, 'vroom' 24 hour room service, fast and free wi-fi, hairdryers, ironing board and iron and complimentary tea and coffee making facilities.
An Aberdeen bar that dares to be different. Take centre stage at MALBAR, the venue that shakes things up with a famous list of classic and quirky cocktails, expertly mixed by your supporting cast. At night, MALBAR comes alive, with Malmaison's gorgeous guests mingling with Aberdeen's finest to create an atmosphere like no other. Ice cold beer, Champagne by the bucket load, celebrity spotting and cocktail slurping. By day, it's 'quiet on the set' at MALBAR Aberdeen, with lattés and croissants replacing the lights and cocktails and a laid back vibe, perfect for business or simply for lounging.
If you could take a spa home with you, this would be it - Malmaison Spa Aberdeen. It's a deeply soulful day spa for those who need time to unwind & recharge before bravely heading out into the retail jungle or the corporate front line. It's handy, it's small but perfectly formed and it's your little secret whether you're staying with us or just popping in on your lunch break.
Our Hotel comes with:
FREE WIFI

24HR ROOM SERVICE

SAME DAY LAUNDRY SERVICE

SPA