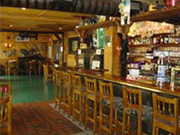 Lynhams of Laragh Hotel
Laragh
Co Wicklow
Ireland

Tel: +353 (0)404 45345
Fax: +353 (0)404 45514

Lynham's Hotel is situated in the heart of the Wicklow Mountain National Park in the village of Laragh, 1 km from the 6th century Monastic city of Glendalough. Lynham's is the ideal location for exploring the most attractive of Ireland's National Parks. From Lynham's you can at your leisure view 100 km's of trails and forest roads all located in, and adjacent to, the National Park.
Lynham's Hotel provides a superb service to cater for all your needs, whether you are on holiday, looking for a venue for a special occasion, need a conference room for meetings and seminars, or just want to share a drink with friends.
At Lynham's you can experience the best of two worlds – a relaxed traditional atmosphere and the luxury of state of the art facilities.
Lynham's hotel offers 14 luxury bedrooms with panoramic views of the Glenmacnass River, the surrounding mountains of the Wicklow Uplands and the Glendalough Valley. The rooms are all stylishly furnished with fine wood and decorated with elegant pictures to create a relaxed and intimate atmosphere. Our bedrooms are en suite and equipped with the latest technologies, including internet access, remote controlled TV, direct dial telephones and tea and coffee making facilities.
Jake's bar is an international famous rendezvous and the bar's informal and vibrant atmosphere, with its big open log fires and courteous staff, make it an ideal location for meeting family, friends or work associates over a pint, a cup of coffee or for a pub meal.