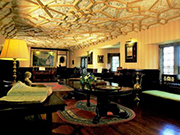 Lewtrenchard Manor
Lewdown
Near Okehampton
Devon
EX20 4PN
Tel: +44 (0)1566783222

Magnificently set in a secluded valley beneath the wild tors of Dartmoor, Lewtrenchard Manor is a luxurious country house virtually untouched by time. Mentioned in the Domesday Book, this idyllic family-owned property is steeped in history: the Jacobean manor that now stands in these impressive grounds dates back to the early 1600s.
The house, although grand, offers guests an atmosphere of peace and tranquillity. The beauty of the gardens and the surrounding soft Devonshire countryside make it the perfect place to relax and unwind. The hotel and its attentive staff offer a warm welcome and guests are encouraged to feel at home.
The extensive gardens and grounds of Lewtrenchard Manor are a delight. The elevated setting of the house is perfectly situated to enjoy splendid views of the peaceful parkland beyond.
The gallery suites, St. Gertrude and Nonington, are truly exquisite and are reminiscent of manor life centuries ago with the benefit of 21st century amenities, including spacious and contemporary en suites. These decorative and luxurious suites offer panoramic views of the surrounding gardens and parkland.
A short walk from the main house, the courtyard suites overlook the gardens, courtyard and fountain. Warrington is a beautifully spacious first floor suite with a large sleigh bed and elegant bathroom. On the ground floor of the North wing, St. Clements is a large suite with a four-poster bed and relaxing lounge area. Deluxe rooms and Classic rooms are also available and can be viewed on our website.
In the restaurant at Lewtrenchard, diners are treated to a dining experience that is without equal in the South West. Food is always meticulously prepared and beautifully presented by our team of chefs headed by Matthew Peryer.
The quality of the cuisine attracts many non-resident diners to the restaurant and the atmosphere is cheerful and relaxed, with a lively buzz of conversation. This is partly due to the friendliness of the chef and staff, but the excellence and diversity of the cellar, which featuring modestly priced bottles from every wine producing region in the world.