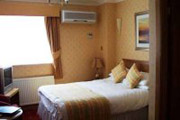 Leapark Hotel
130 Boness Road
Grangenouth
Scotland
FK3 9BX
Tel: +44 (0)1324 486733

Staying at the Leapark hotel is a real pleasure, with many guests returning time after time to sample it's hospitality and quality.
It is a pleasure whether you are on business, attending a special occasion or simply relaxing within easy reach of Scotland's stunning most scenery.
At the family run Leapark hotel, we do not restrict ourselves to specialising in any one particular type of stay.
This is because we have specialist knowledge and unrivalled experience in the full range of hotel-based activities.
Conferences and weddings, sporting breaks and activity holidays, business or pleasure, no matter what, we will help you to plan and enjoy your time as our guests to the fulll.
Such is the warmth of our welcome, you will always feel 'part of the family' at the Leapark hotel.
The Leapark has the quality and range of accommodation you would expect of a hotel which has a three star award.
There are 50 well appointed rooms, with a variety to suit all guest requirements. An attractive selection of double/twin and single bedrooms are available - all 'en suite' and furnished with cable colour television and radio, direct dial telephone, trouser press and tea-making facilities. Safety deposit boxes are available in Reception to keep valuable items under lock-and-key.
The Treetops bar is one of the most convival areas of the hotel, and is the ideal place to enjoy a relaxing drink or a bar meal in good company.
At the bar or 'seated', the ambiance is pleasant and comfortable and the seated area can be laid out to cater for smaller, perhaps family, functions also.
The opening hours of the Treetops bar are 11am to Midnight.