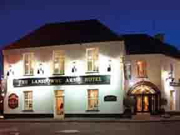 Lansdowne Arms Hotel
Kenmare
Co Kerry
Ireland

Tel: +353 (0)64 6641368

The Lansdowne Arms Hotel Kenmare is an oasis of tranquility and elegance, situated in the heart of the world famous County of Kerry. Located in Kenmare town, it is the perfect base for touring the beautiful Ring of Kerry.
A well-appointed Victorian property, the Lansdowne Arms Hotel Kenmare blends the warmth and comfort of tradition with a modern taste of style. We offer our guests true Irish hospitality, with friendly staff who will do everything to ensure your stay is a pleasant one!
The Lansdowne Arms Hotel has a variety of well-appointed Superior Rooms to offer the weary traveller. All of our 26 bedrooms are tastefully decorated to the highest standards and equipped with all of the modern comforts required by today's discerning traveller.
• King Size Double Rooms available • Direct Dial Telephone
• Twin & Single Rooms available • Dry Cleaning upon request
• Ironing Board & Iron in every room • Babysitting upon request
• Tea & Coffee Making Facilities • Free Guest Parking'The Bold
"Thady Quill' Bar & Restaurant at the Lansdowne Arms hotel is a lively, traditional Irish bar in contemporary surroundings. With a warm atmosphere, friendly service and great food, it is the perfect place to enjoy a light lunch, afternoon tea or an evening meal. Guests can enjoy a range of Irish, European and International dishes, along with a range hot and cold daily specials.
To compliment your meal we offer a selection of fine wines, Irish and International beverages, non-alcoholic refreshments and speciality Irish coffees, all served with skill by our highly trained bar tenders. Why not come along and enjoy a traditional Irish session during the season or a game on the bar's Giant TV Screen?
We invite you to dine with us in 'The Quill Room', our fine dining and A La Carte restaurant overlooking the heritage town of Kenmare. Enjoy the finest ingredients, hand selected and combined expertly to provide fresh and exciting modern dishes. Select from a wide range of local, European and international dishes or why not treat yourself to one of our daily specials!
'The Quill Room' is the perfect place to enjoy a relaxed breakfast, a leisurely lunch or a sumptuous evening meal. We serve the best of local produce, fresh seafood and seasonal vegetables. We also serve delicious home-baked breads and pastries.