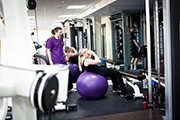 Lancaster House Hotel
Green Lane
Ellel
Lancaster
Lancashire
LA1 4GJ
Tel: 03304 042633

Relaxing Lancaster Hotel with on site Health Club.
We are ideally situated for your golf break, boasting 12 golf courses within 20 miles of the hotel.
Welcome to Lancaster House, one of our leading four Star events and leisure Hotels in Lancaster.
Rated number 1 out of the best Lancaster hotels on TripAdvisor, Lancaster House is a place to savour the good things in life, from the balconied reception lounge to the open fire.
With excellent cuisine on offer, The Foodworks Restaurant showcases some of best local produce of Lancashire, whilst The Sandeman's Bar offers a wide selection of bar snacks and drinks including the famous Sandemans Port collections.
Lancaster House's atmosphere of relaxed elegance is also reflected within each of the hotel's 99 bedrooms.
Our Classic rooms offer everything you would expect from a 4 star hotel, with comfy double or twin beds, Egyptian cotton bed linen and a choice of pillows to ensure you have an enjoyable night's sleep.
For a special treat, the Luxury studio suites offer Super King Beds with separate lounge area, plenty of space to relax.
Book a room direct with English Lakes to ensure you receive the best price for your stay at Lancaster House hotel.
The Sandpiper Health Club is situated at the luxurious four star hotel, Lancaster House, close to Lancaster University Campus.
The Sandpiper Club prides itself on consistently high levels of quality and service standards. The friendly team of professionals are fully trained to help you improve your fitness as well as offering personal tuition in swimming, and various aqua classes.
The Foodworks Restaurant is an award winning Lancaster restaurant, presenting a menu illustrating head chef, Damien Ng's, inventive flare whilst not forgetting the hotel's old favourites.
Situated within the four-star Lancaster House hotel, The Foodworks combines a variety of exquisite dishes, celebrating both British classics and tastes from afar so there's always something for everyone.
Each dish is prepared with care and imagination using fresh local produce. It is this insistence on quality and freshness and a lightness in cooking that sets The Foodworks restaurant apart as one of the best restaurants in Lancaster.