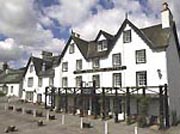 Kenmore Hotel
The Square
Kenmore
Scotland
PH15 2NU
Tel: +44 (0)1887 830 205
Fax: +44 (0)1887 830 262

The Kenmore – A Privately owned hotel, is situated in the Heart of the Scottish Highlands, deep within Rob Roy and Campbell country.
Nestling on the banks of the River Tay the Hotel is famous for its warmth, charm, Highland hospitality and vivid history.
After spending a wonderful day exploring this stunningly beautiful part of Scotland, it is time to make your way to one of our 40 individually furnished bedrooms. The moment you slip between the cotton sheets and your head sinks into the pillow, we guarantee you will be engulfed by a deep and refreshing sleep.
All of our rooms in the hotel and detached lodges are tastefully decorated and have en-suite bathroom facilities containing everything you need to help you relax and wash away your worries - power showers and/or large baths(some Jacuzzi style), warm fluffy towels and a plentiful supply of luxury Arran Aromatics toiletries.
Guests can choose between double, twin or executive rooms or suites. We also have some family rooms with bunk beds or pull-out extra beds.
13 of our rooms are housed in the lodge that is situated across the square, adjoining Taymouth Castle gates and we allow our doggy friends to stay with you in some of these rooms.
The hotel has 2 executive suites - the most popular of which is the Veranda Room. It has a large outdoor terrace and small conservatory overlooking the tranquil River Tay. The veranda is large enough to host cocktail parties. The luxurious bathroom suite boasts a Jacuzzi style bath to help you relax and soothe away your worries.
We have a small number of rooms in which we permit smoking.
At The Kenmore Hotel, we offer two distinct dining and lounging options.
Image
At two Restaurants you'll enjoy the very best in Scottish cuisine in peaceful, sun-lit surroundings. The Garden's outdoor patio offers great views of the Tay, and is the perfect spot to while away those long summer evenings.