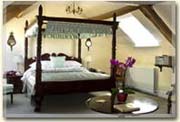 No 42 Kegworth House
42 High Street
Kegworth
Derbyshire
England
DE74 2DA
Tel: +44 (0)1509 672575

If you are looking for traditional, yet welcoming, small, country-house style accommodation situated in the Heart of England - relax the search is over..
No 42 Kegworth House dates back over 350 years and is a distinctly English residence situated in Kegworth village. The heritage and history is evident and the elegant Georgian facade conceals a stone-flagged hallway that leads into the welcoming and relaxing drawing room with an open fire, comfortable sofas and easy arm chairs.
Also to the front of the house, the formal dining room is furnished with antiques atop a polished oak floor and dominated by the c17th mahogany 12 seat dining table and chairs - enchanting and charming surroundings for candlelit suppers.
The hall continues on to the bright and inviting, casual, family-style, kitchen where full English and Continental breakfasts are served to all guests around the large, refectory-style table.
Eleven beautifully appointed, en-suite, double bedrooms (four of which feature 'Queen size' beds) are located on three floors - each individually designed and featuring the modern day comforts that make this historical home a place where you will feel at ease...
Your hosts, The Ballantyne family have made Kegworth House a retreat from the outside world, for both the business and leisure traveller.