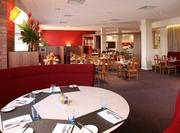 Novotel Newcastle Airport
Ponteland Road
Kenton
Newcastle upon Tyne
England
NE3 3HZ
Tel: +44 (0)191 2140303
Fax: +44 (0)191 2140633

This exclusive, modern hotel is easily accessible via all routes to the city centre, Metro shopping centre and airport. The metro station is a mere 7 minute walk from the hotel.
A recent, extensive refurbishment has breathed new life into the Novotel Newcastle Airport Hotel. We strive to en-sure your stay will be the absolute pinnacle of convenience and so provide wonderfully comfortable, replenished public areas, flight-information screens in our reception, WiFi access in public areas and some bedrooms, 8 conference suites accommodating up to 200 delegates and a luxury suite exclusive to guests with indoor heated pool, sauna and gym.
Our rooms are stylishly designed with your comfort in mind and are uniformly en-suite. Rooms contain double bed with luxury duvet, sofa, personal telephone, modem point, WiFi access, unique swivel desk, safe, satellite TV with radio and movies, mini-bar, tea & coffee making services, iron and ironing board and hairdryer. Dining consists of the brand, new elements restaurant and bar offering a unique dining experience alongside a fabulous room service.
Up to 2 children (under 16) can share adult's room for free. Children enjoy a free breakfast when their parents have breakfast. Bookings of 4 rooms or more are covered by group terms and conditions. Groups are subject to a credit card authorization for each room on arrival and a 14 days cancellation policy.
Full terms and conditions concerning groups are available direct from the hotel and will be issued on check-in.
Additional costs (2010): Breakfast: 13.50 GBP per person