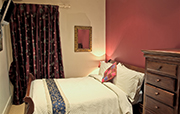 Hotel de Vie
22 Firgrove Hill
Farnham
Surrey
England
GU9 8LQ
Tel: +44 (0)1252 823030

With 35 golf courses within a fifteen miles radius, Hotel de Vie is an adults-only hotel, independently reviewed as the best accommodation in the Farnham area. We are a small boutique hotel of eight luxuriously-fitted rooms only a short walk from the historic Farnham town centre, Farnham station and a host of other local attractions and amenities in and around the Surrey Hills.
With 8 individually themed high quality en-suite rooms, Hotel de Vie, Farnham, provides superior accommodation, great staff, freshly cooked to order breakfasts, powerful showers and large baths. Affordable luxury in a friendly and relaxed environment that many guests like to call their home away from home. You can't find better deals anywhere else, so our best prices are always here, and here alone.
We typically start cooking our breakfasts from 7:30am-9:00am on weekdays, and from 8:30am-10:00am at weekends. Please note that all our breakfasts are freshly cooked to order, on a first-come, first-served basis, so please allow yourself at least 15-25 minutes to be served if you're the first down, or more if other people are ahead of you.
For the comfort of our guests, our restaurant & bar is exclusive to our overnight guests only.
We do also provide party bookings for special events, but these must be booked and agreed in advance, and is subject to our availability.
In keeping with the general ethos at Hotel de Vie, meal times are relaxed and comfortable.