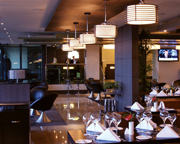 Holiday Inn London – Kingston South
Portsmouth Road
Surbiton
Surrey
KT6 5QQ
Tel: +44 (0)20 8786 6565
Fax: +44 (0)20 8786 6575

If you are looking for hotels in Kingston, our AA 4 star hotel provides the perfect combination of comfort and convenience for all your travel needs. Whether you are looking for hotels near Richmond for business travel, hotels near Hampton Court for a short break, or Surrey wedding venues, our hotel near Kingston upon Thames is a contemporary hotel that offers easy access to Central London, Heathrow Airport, business districts and the most famous attractions in London.
When looking at Kingston hotels, look no further for a wide variety of bedrooms, including standard rooms, accessible rooms, executive guest rooms and suites. All rooms are designed to ensure a relaxing stay and a good night's sleep, especially when looking for hotels near Sandown Race course. Our guest rooms are equipped with wired and WiFi Internet connection, ensuite bathrooms, satellite television, tea and coffee making facilities, and individually controlled heating / air conditioning.
Our hotel is ideally located a little over 3 miles from Hampton Court Palace Golf Club and when looking for Sandown Park Race course hotels and Twickenham hotels, and features the 4th Floor SkyBar with breathtaking views over the River Thames, the Riverview Restaurant serving a wide range of continental and Pan Asian cuisine, a mini gym, 24 hour room service, dry cleaning / laundry services and complimentary secure onsite parking.
If you are looking for Surrey meeting venues, our hotel offers comfort and convenience. If you are looking for business meeting venues in Richmond, business meeting venues in Surrey or business meeting venues in South London, we are ideally located and have 6 meeting, conference and event suites for up to 300 delegates, as well as business services for all your corporate travel needs. We cater for a variety of events, including weddings, Asian events, self catering functions and family celebrations.