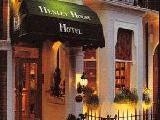 Henley House Hotel
30 Barkston Gardens
Earls Court
London
England
SW5 OEN
Tel: +44 (0)20 7370 4111
Fax: +44 (0)20 7370 0026

Overlooking a beautiful garden square, Henley House is a small but very charming hotel.
It is a 'boutique' style hotel, offering cosy but well appointed rooms rich in decor and style.
The service is friendly and personal.
Ideal for both the businessperson and for those on that romantic weekend to London.
A townhouse hotel in style and essence.