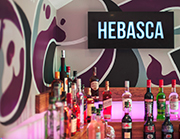 Hebasca Hotel
Downs View
Bude
North Cornwall
EX23 8RE
Tel: +44 (0)1288 352361

Hebasca features 23 super-slick bedrooms, each of which has the individual character you would expect from a luxury hotel in Cornwall. Contemporary yet rich and comfortable, Hebasca is a heady mix of exposed brick, cloud-coloured walls and slate backdrops.
Sleek, modern and in the heart of Bude, Hebasca is a beautifully-designed hotel in North Cornwall. A multi-million pound refurbishment completed in early 2013 transformed our Bude hotel.
Being so close to the Cornwall/Devon border makes Hebasca a superb base for your golf break. There's a whopping 39 golf courses within 90 minutes' drive of the hotel.
Our stylish bedrooms and sumptuous suites are kitted-out with everything you expect from a luxury hotel in Cornwall, as well as some playful and frivolous extras. Want to watch TV in the bath? Sure, check out The Playroom suite. Want to get down to business on a work trip? Our 'Just Right' dreaming dens will do the trick. Free Wifi is available throughout.
Stylish and comfortable, our dreaming dens are dedicated to your deep slumber (try saying that fast!) They are a heady mix of cloud and coffee-coloured walls punctuated with jewel-bright fabrics and slick slate furnishings. We're a well-travelled bunch and have personally selected all the mod-cons, and stripped out all unnecessary clutter.
Each bedroom features:
• Exquisite design
• En-suite with powerful drench shower (many have baths too)
• Free WiFi
• Hebasca full English breakfast
• Fluffy towels
• Duck down duvets
• Safe
• Hand-crafted furniture
• iPod dock and DAB radio
Our dreaming dens are sleek, cosmopolitan and eminently affordable.
Hebasca Grill provides food-fuel to get you started in the morning and soon will be open at weekends. Our impressively-stocked Hebasca Bar is a design-conscious delight.