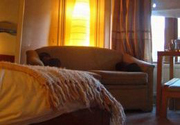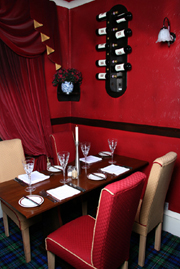 Haylie Hotel
108 Irvine Road
Largs
North Ayrshire
Scotland
KA30 8EY
Tel: +44 (0)1475 673207

The Haylie Hotel, Largs situated in the beautiful seaside town in North Ayrshire, has benefited from continuous family ownership for over 18 years and sits majestically on the hill overlooking Largs, Fairlie and the Islands of Cumbrae, Bute and Arran.
The hotel boasts eight rooms, all stylishly designed with modern en-suite facilities, colour TV/DVD and a refreshment tray. The Haylie Hotel earned a fine reputation for the excellent and consistent standards in its restaurant facility eliciting this quote from Richard Bath of Scotland on Sunday.
"This cosy restaurant has a warm, welcoming
and distinctly lived-in atmosphere".
For that special celebration or occasion, ask for our Champagne and Sparkling Wines List, or pre-order your champagne when you book your table.
The restaurant is open Six nights per week, Monday to Saturday, opening at 6 pm. On Sundays the restaurant is closed, although bookings can still be made, either in person or by telephone.