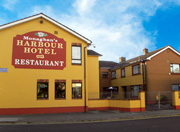 Harbour Hotel
Limerick Road
Naas
Co.Kildare
Ireland

Tel: +353 (0)45 879145

The minute you enter the Harbour Hotel you feel at home. That's what a stay with us is all about. When you have been traveling, sightseeing, out and about, this is the best place to relax and let the activities of the day wash through your memory over a good meal and a drink later on.
There are more hotel choices in Naas and Ireland, today than ever before. Many of the amenities that used to set a hotel apart, have now become the standard. So what makes a hotel truly unique? At Harbour Hotel, we believe it's our people. Exceptional customer service with a family touch coupled with warm and inviting accommodations in great location make Harbour Hotel the premier choice in hotels in Naas.
Spacious luxury coupled with warm co-ordinated decor that runs through the whole hotel. A combination of the most modern fittings and the simple integrity of your very own bedroom. Like a well chosen sauce it compliments the structure and style of the building. All the facilities that you require are here at your fingertips.
Every effort is made to make your stay a most enjoyable experience you will want to have again and again. Our attention to detail is what makes this possible. If you have any problem we will be delighted to help you. You will have no trouble finding a good listener who will, more importantly, be able to do something for you. The hotel is family owned and run.
Everything served here is home cooked, good, wholesome food in generous portions at modest prices. Our selection will suit everyone. The surroundings are intimate and personal in keeping with the overall service you'll come to expect, the personal touch. If you prefer the setting of the coffee shop you can choose from the coffee shop menu or the restaurant lunch menu. Both have a wide selection of delicious food.

Well stocked, and we find it's well popular too. It's no surprise as the atmosphere is cosy and relaxed. The drink, the company and the chat are as good as the guests. Sit back and soak it all up.
Think of the day, the stay ahead and say cheers. Raise a toast to yourself for choosing the best place to take a well earned break