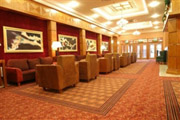 Hamlet Court Hotel
Johnstownbridge
Enfield
Co. Meath
Ireland

Tel: +353 (0)46 9541200
Fax: +353 (0)46 9541704

The essence of the Hamlet Court lies in our vision; `To bring an unsurpassed level of professionalism to all aspects of the service industry and to give the care and personal attention to each of our customers that only a family run business can provide.
The Hamlet Court Hotel is located in the quaint hamlet village of Johnstownbridge on the border between County Kildare and County Meath. Completely new, this contemporary Hotel was designed to provide you with all the latest features that modern Irish Hotels have to offer.
The Hamlet Court Hotel offers a choice of 30, luxurious en suite bedrooms. Each of the rooms are elegantly appointed with en-suite bathroom, and tastefully decorated with top of the range quality furnishings to ensure that your guests enjoy the highest possible standard of quality and comfort.
Each room comes as standard with the following facilities; Remote Control Cable TV,Direct Dial Telephone, Hair Dryer, Modem/ Data Port Connection, Iron & Ironing board, Tea & Coffee making facilities.
Comfort, service, the freshest and choicest selection of food all combine in the intimate surroundings of the new Sabayon Restaurant. Whether for a romantic dinner for two, conference meal, or dinner party, our Maitre`d Mo sets pride by his excellent wine cellar and will be happy to assist you in your selection of fine wines, liqueurs or armangnacs.
Relax and soak up the atmosphere that is Sabayon `where sumptuous food marries fine wines`
Whether a romantic dinner for 2, or a dinner party, our delectable menu, choicest ingredients, and helpful staff will leave you with a culinary experience like no other.
Our Chef creates tantalizing dishes that will leave your mouth watering for more! See here in advance what our menus have to offer.
Whatever the occasion, Sabayon is an experience like no other.
In Murty`s Bar you will find an old world convivial atmosphere where the bar manager Tony and many of his staff have worked in the bar for more years than they care to admit! Old and new come together now as many new faces have joined the crew.
At any time you will find locals who`ve sat on the same stool for years sitting with new locals and visitors alike. The same charm and hospitality is extended to all.
Every weekend there is live music in the bar.