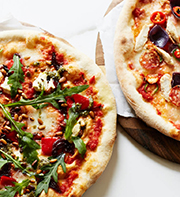 Gusto Edinburgh
135 George Street
City of Edinburgh
Scotland
EH2 4JS
Tel: +44 (0)131 225 2555

With twentyeight golf courses within eight miles of our restaurant we are ideally situated for your golf break.
Life is a gift; live it with Gusto every day.
Nowhere reflects the unique atmosphere and style of this unique city better than George Street. So Gusto couldn't be anywhere else. This is where refined residents and tourists with taste catch up with friends and family – sitting at the terrace seeing the city rush by, or stepping out of the madness for a relaxing drink and bite to eat.
To borrow a popular adage, the secret of a great event is 'location, location, location'.
That's why the perfect event starts with Gusto. Perfect organisation, private areas you can personalise, multiple options on format, every essential facility, brilliant staff and of course, fabulous food! Parties, celebrations, reunions, lunches, charity events, receptions, even mini-conferences. You provide the occasion, and leave it with us.
Join our Dining Club for all the latest offers, news and events.
Opening Times.
SUNDAY TO THURSDAY 12NOON - 10PM
FRIDAY TO SATURDAY 11AM - 11PM