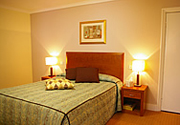 Guildford Manor Hotel & Spa
Newlands Corner
Guildford
Surrey
England
GU4 8SE
Tel: +44 (0)1483 222624

Located in the heart of the Surrey Hills' peaceful countryside, surrounded by uninterrupted views of parkland and gardens, our 53-bedroom hotel makes for the perfect getaway for couples and families, and provides an inspiring setting for business trips.
Whether you're looking to spoil someone special with a romantic getaway or want to inspire your team with a motivational business trip, we have just the selection of rooms to make sure your stay in the heart of the Surrey Hills countryside is everything you imagined.
Make our spa & health club your own with our wide range facilities, from a relaxing swimming pool and indulgent treatment rooms to our state-of-the-art fitness studio.