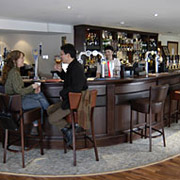 Greyfriars Hotel
129 North Street
St Andrews
Fife
Scotland
KY16 9AG
Tel: +44(0)1334 474906
Fax: +44(0)1334 472442

Our delightful hotel nestles in the heart of historic St. Andrews. Fine food, exquisite luxury and the true warmth of Scottish hospitality ensure our guests have a memorable and relaxing stay. The most modern of contemporary style in all our rooms combined with the finest of traditional design gives our hotel a wonderful welcoming ambience.
On our doorstep are the medieval streets of St. Andrews, where pubs, restaurants and antique shops sit next to buildings from the Middle Ages.
The first tee of the world famous Old Course is only a five minute walk from the hotel. We pride ourselves on providing a personal service where comfort and informality makes Greyfriars the perfect home from home.
St. Andrews, a name forever linked with golf. From around the world, golfers come to test their golfing prowess against the supreme challenge that is the Old Course.
Greyfriars is a five minute walk from the Royal and Ancient Clubhouse where the laws of the game were first set down. Stand on the first tee and you are a part of golfing history where every legend of the game has battled for victory.
Every dip and hollow of the Old Course has a story to tell of tournaments won and lost. Awesome bunkers and huge greens provide the ultimate challenge.
The local links have five 18 hole courses and one 9 hole course. No wonder St. Andrews is the mecca for all golf lovers.
There are many beautiful and challenging courses just a short drive from the hotel. We can advise you when planning golfing packages to help meet the needs of all types and levels of golfers. So let us help ease the stress by planning your next golf outing.
Greyfriars - a golfer's dream.