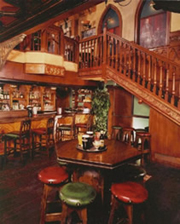 The Greville Arms Hotel
Mullingar
County Westmeath
Ireland

Tel: +353 (0)44 9348563
Fax: +353 (0)44 9348052

The Greville Arms Hotel is justifiably proud of it's great reputation for hospitality, good food and excellent service. As a distinguished food and drinks emporium it has served the discerning social order of Mullingar, in various idioms since 1884.
The Greville Arms Hotel is immortalised by James Joyce in his book Ulysses and now one of Ireland's greatest pubs pays homage by establishing a reputation as one of Ireland's greatest hostelries, a tavern of impeccable character.
Whether you are a business executive or visitor to our region we extend a warm welcome and assure you of our constant attention to detail to make sure that your stay with us at the Greville Arms Hotel will be the kind of experience you will want to repeat.
Our bedrooms are a haven of sumptuous luxury for those trying to escape the everyday rigours of life. Finished to exacting standards each room gives you the ideal space in which to relax and unwind after a demanding day.
Each of our 40 bedrooms are en-suite with direct dial telephone and colour television for your comfort. Our suites push the standards of excellence even further, allowing you to pamper yourself in executive luxury.
This level of oppulence combined with the dedicated professional staff, and the mouth watering cuisine from our restaurant will ensure you will return again.
The Greville Arms Hotel is The Entertainment Centre of Mullingar. It enjoys an unparalleled reputation as the entertainment hot-spot of the town.
After the opening of "Ulysses" themed pub and the major refurbishment and sensational opening of the new "Le Louvre Nightclub" your night of high quality, pulsating entertainment is virtually guaranteed.
Plus...we have the inside track and indepth knowledge when it comes to locating, booking and promoting the best of Irish and international bands - live for you ! Whatever your taste in Entertainment you wont be diasappointed by what we have to offer. From a pulsating disco rhythm to laid back ballads we only provide the best entertainment.