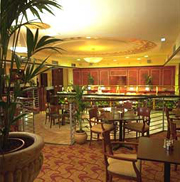 Grand Hotel Malahide
Malahide Village
Malahide
Co Dublin
Ireland

Tel: +353 (0)1 845 0000
Fax: +353 (0)1 816 8225

The Grand Hotel, Malahide, is a great 4 star property with extensive and impressive facilities that will impress the most demanding of hotel travellers. The staff at this Co. Dublin hotel have been trained to ensure that whatever your reason for staying you are treated to the best in service and hospitality.
Should you require any assistance or tourism advice please call down to the front desk staff who will be more than happy to help. The Grand Hotel is still just 15 minutes from Dublin International airport and 5 minutes from the M50 motorway. There is also the DART rail and regular bus services to Dublin City, about 25 minutes away.
The guestrooms at the Grand Hotel are spacious and comfortable and designed with the guest foremost in mind. Whatever your reason for staying at this 4 star Co. Dublin hotel, whether it is business or pleasure, you are assured of a memorable stay. Some bedrooms boast spectacular sea views The Colonnade Restaurant located at the Grand Hotel is a great place to enjoy an intimate evening dinner in plush surroundings with the best of service topping off an excellent nights entertainment.
The Palm Court serves a bountiful carvery lunch perfect for a relaxing and peaceful sunday