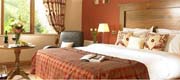 Glengarriff Park Hotel
The Village
Glengarriff
West Cork
Ireland

Tel: +353 (0)27 63000
Fax: +353 (0)27 63526

Located in the heart of the peaceful village of Glengarriff, this West Cork accommodation sits at the entrance to the Blue Pool Park and Garnish Island. This newly renovated Hotel accommodation in West Cork offers you the unique opportunity to relax and unwind, with a range of luxurious bedrooms, superior dining in The Park Bistro or share a drink with the locals in our warm, friendly Mac Carthy's Bar. Take a walk through the 60 acres of Parks, Botanical Gardens and Nature Reserve right on our doorstep.
A warm, friendly welcome and professional staff await your arrival, The Glengarriff Hotel West Cork is well known for it's magical scenery, surrounded by hills and mountains and glittering blue seas, overlooking Bantry Bay. Glengarriff is also noted for the variety of plants and marine life that flourish here due to the warmth of the gulf stream.
This luxury accommodation in West Cork boasts 26 en suite guest bedrooms, offering Satellite T.V, Tea & Coffee making facilities, direct dial telephones and a room service menu from the delicious Park Bistro. We offer you a choice of double, twin, triple, family or connecting bedrooms, depending on your own personal requirements.