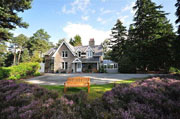 Glendavan House
Dinnet
Aboyne
Aberdeenshire
Scotland
AB34 5LU
Tel: +44 (0)13398 81610

Set in the heart of Royal Deeside, Glendavan House was built as a shooting lodge in 1886. The house stands in its own extensive grounds - seven acres of natural pine woodland overlooking Loch Davan - within the newly created Cairngorms National Park. The grounds are home to varied Highland wildlife including regularly sighted red squirrels and roe deer. The loch is a protected bird sanctuary - in the autumn, thousands of graylag geese settle on their journey south, sharing territory with whooper swans, mallard ducks, moorhens and a family of otters.
Glendavan House has been home to the Trantor/Milne family for more than 30 years. Now run by Alan and Moira Milne and their daughter Rebecca, Glendavan has been providing Bed and Breakfast accommodation for 4 years at a 5* level and achieving the 5* Gold standard from Visit Scotland last year.
Furnished to high standards, each suite and room combines bespoke and antique furniture, Victorian features and luxurious fabrics with state of the art, modern facilities. Accommodation at Glendavan has been tailored to offer every guest a little bit of luxury in a relaxed and informal manner.
Equal care is taken with breakfast. The daily papers and an inviting menu on holiday, contrast with the work-day hurried coffee and slice of toast. Breakfast also offers us a good opportunity to share, with those who wish, thoughts on 'plans for the day'.
The vagaries of the Scottish weather are much berated. Rather, we find (admittedly with a few exceptions) the day to day and season to season changes and contrasts a delight. The day of sky and summer warmth, of scudding clouds and rain, of crisp cold and snowfall; each of beauty. And on a real 'shocker', there may be some consolation in relaxation by your open fire.