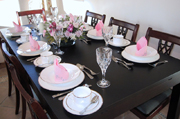 Foxglove Cottages
Drymen
Near Glasgow
Stirlingshire
Scotland
G63 0DW
Tel: +44 (0)1360 661128

Foxglove Suites and Cottages Self Catering Drymen
Loch Lomond Scotland
5 Star Detached Loch Lomond Luxury Lodges
On the West Highland Way and Cycle Track within the
Loch Lomond and Trossachs National Park
Along a quiet country lane you will find.....
a place to relax and unwind in comfort and luxury surrounded by nature. When your batteries are recharged you may wish to explore castles and palaces, lochs and glens, picturesque villages, historic towns, sophisticated cities or take part in a multitude of activities such as golf, riding, walking, climbing, archery, picnicking, sailing, cycling etc. The choice is yours.....
Enviably situated on the West Highland Way and within the Loch Lomond and Trossachs National Park the three detached Foxglove Cottages provide a luxury standard of self catering holiday accommodation - Cottage Layout. The cottages are set in mature grounds of a small family owned and managed country estate surrounded by mature perimeter trees.
Sensitively built on the outside with green timber to blend sympathetically into the beautiful scenery of the Loch Lomond and Trossachs National Park, the inside of each cottage offers a spacious, beautifully designed three en suite bedroom, detached country cottage.