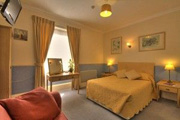 Fairlawn House
42 High Street
Amesbury
Salisbury
Wiltshire
SP4 7DL
Tel: +44 (0)1980 622103

Fairlawn House is a fine Georgian Grade II listed town house offering a warm welcome and friendly service in lovely surroundings and at an affordable price including a delicious breakfast. We offer free Wifi access and overnight and weekend parking.
Fairlawn House is conveniently situated in Wiltshire's beautiful countryside. It is only 2 miles from historic Stonehenge8 miles from the Cathedral City of Salisburyapproximately 30 miles from Avebury and Longleatjust over 40 miles from the Georgian City of Bath
In addition, we are approximately 70 miles from the outskirts of London, 30 miles from the International Airport and Docks at Southampton and the picturesque New Forest. The hotel is an ideal stopover for touring visitors, a great base for local exploration and well-used by business travellers.
The present owners, Tracey & Keith, purchased Fairlawn House in June 2010 and, after a busy Summer and Autumn – during which an evening meal service has been introduced with the opening of the cosy and intimate Cellar's Restaurant – they are embarking on a full development and refurbishment programme through 2011/2012.
The first phase will be to create 3 self-contained new family rooms in the old Coach House to the rear of the main building. These rooms will be suitable for families and will have additional facilities such as a fridges and microwaves as well as the traditional well-stocked hospitality trays. Phase two, will be to start the update and refurbishment of the existing guest rooms in the main building whilst still retaining the character and original features of the property.
Tracey & Keith are committed to customer service and will ensure that the planned work will be scheduled to cause minimum or no disturbance to our guests.