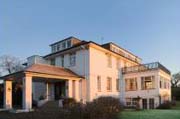 Enterkine Country House
By Ayr
Ayrshire
Scotland
KA6 5AL
Tel: +44 (0)1292 520580
Fax: +44 (0)1292 521582

This privately owned, luxury five star country house hotel in the heart of Ayrshire is a hidden treasure. Approached by a long, winding avenue flanked by mature trees, you will feel you are leaving the real world behind. The trees part to reveal an elegant house, built originally as a private residence in the late 1930s, and now enjoying a new role as a beautifully appointed country house hotel.
Enterkine has six delightful and comfortable bedrooms which are complemented by elegant, well appointed reception rooms.
In keeping with Enterkine's luxury hotel status, each of these spacious rooms with their high ceilings and large windows has been furnished and decorated in its own unique manner.
With splendid, spacious bathrooms, every room is a haven where guests can relax and enjoy luxury at a level rarely found.
Each bedroom welcomes you with tea and coffee, hairdryers and televisions. Beauty treatments may be arranged in the privacy of your own rooms and "Treats" can be pre booked ie chocolates/flowers/champagne etc.
As you would expect from a country house, Enterkine belongs to its guests and it is very much their home for the duration of their stay.
Guests arrive at Enterkine to be individually welcomed into the elegant entrance hall. From there they are inevitably drawn to the main reception room with its beautiful soft furnishings and in the winter a blazing log fire.
Enterkine may be used for corporate or pleasure, all clients are welcomed as house guests and use the house as their own. Enterkine has looked after many occasions - from wedding celebrations, anniversaries, corporate golf stays to relaxing midweek or weekend breaks. We can arrange beauty treatments or outdoor pursuits on the estate. Please just ask!