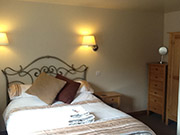 Duke of York
North Street
Shepton Beauchamp
Ilminster
Somerset
TA19 0LW
Tel: +44 (0)1460 240314

Ideally situated just 7 miles from Long Sutton Golf Club, set in the beautiful Somerset village of Shepton Beauchamp, the Duke of York is a 17th Century Free House, offering visitors an exceptionally warm welcome within a traditional pub setting. The Duke of York offers a superb selection of great real ales, local ciders and an excellent range of wines. Customers at the pub will be greeted by husband and wife team, Paul and Hayley Rowlands.
"We took over the pub back in 2002, with a firm idea of what we were looking to create – a pub with a traditional feel that would be welcoming to both locals and visitors to the village.
With our award winning chef, we are able to offer some of the best food in the area, made using the finest, local ingredients and cooked to the highest of standards. We can now offer an excellent Sunday Carvery, which is proving a great success as are the Wednesday and Thursday Steak Nights."
Paul and Hayley, are able to host, and organise, both large events and more intimate social gatherings and offer all a sincere warm welcome to our beautiful Free House. Children and dogs are always welcome at the the Duke of York and we wish you an enjoyable experience while visiting us.
We have five en-suite newly built letting rooms, one which is a large en-suite complete with four poster bed and a Jacuzzi. All are part of a separate annex.
We have our own car park to the rear of the building.
FREE WiFi.

So, stay and enjoy the hospitality and use the pub as a base to explore the many local attractions.