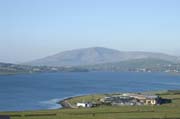 Dingle Skellig Hotel
Dingle
Co. Kerry
Ireland

Tel: +353 (0)66 915 0200
Fax: +353 (0)66 915 1501

From the moment you arrive at the Dingle Skellig Hotel in Dingle, our friendly staff will welcome you and help to make you feel right at home. We pride ourselves in the care and courtesy that we pay to our guests, and so throughout your stay, our team will gladly answer any queries you may have to ensure that your visit and time with us is as relaxing and enjoyable as possible. We are also delighted to help you in "What to see and do" locally to help make the most of your time in Dingle. We offer luxury accommodation in Dingle, rejuvenating spa, gourmet restaurant, state of the art leisure centre and kids club.
We hope to have the opportunity of welcoming you to the Dingle Skellig Hotel in Dingle County Kerry in the near future and in the meantime, if there is anything at all we can help you with, please do not hesitate in contacting us. We look forward to creating happy memories for you at the Dingle Skellig Hotel.
The Dingle Skellig is one of the best located golf hotels in Kerry with an abundance of golfing activities within close proximity. The classic links course at Ceann Sibéal offers an outstanding challenge for golfers of all abilities. This is just a 20 minute drive from Dingle Town where the 18 holes skirt the Atlantic Ocean.
There is also a Pitch and Putt course just 5 minutes drive from Town where one may also avail of the driving range.
The Dingle Skellig Hotel boasts luxury accommodation in Dingle with 111 stylish bedrooms on offer. We offer you a selection of bedroom styles for you to choose from.
To compliment this beautiful setting, we bring you The Peninsula Spa where calm and peace replace stress and tension. Where mind and body become one with the beauty and serenity of the Dingle Peninsula.