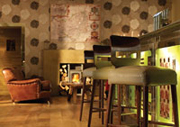 The Corran Resort & Spa
East Marsh
Laugharne
Carmarthenshire
South West Wales
SA33 4RS
Tel: +44 (0)1994 427417

The Corran Resort & Spa offers a taste of luxury, hidden in the marshlands of the Carmarthenshire countryside. Our vision at this boutique haven is simple; to provide guests with great service, food and surroundings. Ensuring your stay is special and filled with lasting memories is our top priority.
Surrounded by sea, the Towy estuary and acres of Marshland, The Corran is steeped in history with the original 16th century building at the heart of this expertly restored hotel.
Within, you will find 21 individual and contemporary bedrooms, with views over the marshland and exquisite en-suite bathrooms. All rooms have unique personal touches and are equipped with high specification media systems allowing you to create your own idyllic and relaxing atmosphere.
You'll receive a warm welcome at The Corran whether you're looking for a quiet, romantic weekend retreat or are keen to explore this beautiful corner of Carmarthenshire with its rich history and sandy beaches. See you soon.