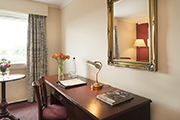 Copthorne Hotel Aberdeen
122 Huntly Street
Aberdeen
Scotland
AB10 1SU
Tel: +44 (0)12 2463 0404

The Copthorne Hotel Aberdeen is a beautifully maintained historic building, conveniently situated in the quiet west end of the city of Aberdeen, a little over 3 miles from Royal Aberdeen Golf Club. Like so many buildings in the Granite City, this hotel has a granite façade and it combines this impressive architecture with excellent customer service.
The hotel offers guests a warm and friendly environment, 87 comfortable guest rooms and the opportunity to dine in the West End Bistro. This restaurant, situated in the hotel, offers different dishes from the steak and grill selection.
The hotel is just a short walk from the city centre and offers easy access to the city's venues and popular attractions, as well as to the tranquil countryside of the surrounding area, which hosts a selection of some of the finest whisky distilleries and castles in Scotland.
The well-appointed Standard Rooms at one of the finest hotels in Aberdeen are comfortable and welcoming.
The spacious Club Rooms offer a superior level of comfort, at one of the finest hotels in Aberdeen. Guests also receive Club Guest Rewards.
The well-appointed Accessible Room, at one of the finest hotels in Aberdeen, caters for guests with special requirements.
Complete your day, or simply make it even better with a sumptuous and satisfying meal in a memorable restaurant setting. The Copthorne Hotel Aberdeen offers some of the finest hotel dining in Aberdeen, with freshly prepared food, and where possible, locally sourced ingredients.