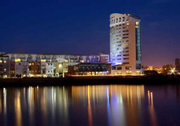 Clayton Hotel Limerick
Steamboat Quay
Limerick
Ireland

Tel: +353 (0)61 444 100

The ship-shaped Clayton Hotel Limerick is one of the finest hotels in Limerick not only a breathtaking piece of architecture, but it is also Ireland's Tallest Hotel, boasting an idyllic location on the River Shannon waterfront in Limerick City Centre. Located on Steamboat Quay, Limerick this 17-storey hotel combines architectural mastery with warm interiors and exceptional service. Both of the Clarion Hotels Limerick exude warmth throught the decor and staff inside the hotel. Warm shades mingle to create a calming environment in a contemporary fashion.
Five years ago this new landmark settled alongside the River Shannon's historic waters in Limerick city centre. The Clarion Hotel Limerick which soars 200 feet high and is the second tallest building in the county has redefined the standard of four star hotels in Ireland. As a hotel facility, as well as a building, it will inevitably play a major role in Limerick for years to come.
Within 10 minutes of the hotel are 20 other dining options, 15 minutes will bring you to Shannon International Airport and located directly across the road from the hotel is Dolan's pub with traditional Irish music 7 nights a week. Car parking is directly across the road from the hotel at a surcharge.
158 Riverside Hotel Bedrooms including 3 Hotel Suites and a Penthouse.
Sample the richest and most exciting flavours served with fresh local seasonal ingredients.
Whatever your appetite we have an option for you at the Clarion Hotel Limerick.
SanoVitae Health & Fitness Club
Relax and unwind. Refresh and invigorate.
Fully equipped gym, sauna, steam room, Jacuzzi and a 12 metre swimming pool at SanoVitae Health & Fitness at the Clayton Hotel Limerick.
Whatever way you choose to keep fit, whatever advice or instruction you need, you'll find it at SanoVitae.
And with a limited membership, you'll find it in peaceful, calm surroundings.
SanoVitae Health & Fitness is located on the first floor of the Clarion Hotel, Steamboat Quay, Limerick. Facilities include, fully equipped gym with individual tv's in front of each piece of cardiovascular equipment, swimming pool overlooking the River Shannon, Steam Room, Sauna & Jacuzzi. Towels are provided complimentary on every visit. Membership includes fitness programme from our qualified fitness instructors. And this is only the beginning...