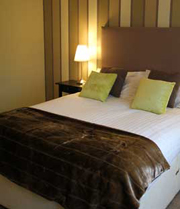 Chez Vous Restaurant & Hotel
432 Limpsfield Road
Warlingham
Surrey
England
CR6 9LA
Tel: +44 (0)1883 620451

Our Chez Vous Restaurant opened in Warlingham in 2011. Our Restaurant in Surrey continues the success of Chez Vous Events and mirrors the excellence that has earned Chez Vous its reputation as one of the areas finest catering companies. Chez Vous Restaurant has a French Heritage combined with strong British roots and features unique dishes influenced by traditional cooking and modern trends. Our relaxed atmosphere in its contemporary setting promises a refreshing dining experience with every visit.
Our Hotel promises a relaxing stay with our newly refurbished accommodation perfect whether on business or leisure breaks in Surrey or London. Our stylish Hotel is easily accessible and well positioned in the heart of Surrey only 10 miles outside of London.
Chez Vous Events Ltd was launched in 2000 by Founding Partner and Executive Chef Martin Bradley. Since then, Chez Vous Events has provided outside catering for over 1000 Weddings and Events throughout Surrey, Sussex, Hampshire, Kent and London including private party catering, corporate event catering, wedding catering, barbecue catering and annual society and school ball catering.