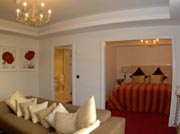 Charleville Park Hotel & Leisure Club
Limerick Road
Charleville
County Cork
Ireland

Tel: +353 (0)63 33700

The Charleville Park Hotel is the first major development of its kind in the town and is quickly becoming the focal point for business and pleasure in the area.
It is easy to understand why the impressive new Charleville Park Hotel & Leisure Club comes under the umbrella of the Cork Luxury Hotel Group.Its imposing presence at the outskirts of Charleville town on the border between Cork and Limerick makes this Four Star luxury hotel in Charleville the perfect location for business or pleasure right in the heart of Munster.
Designed to the highest standards, the overwhelming sense of space is one of the first things you will note when you enter the foyer,as is the sense of comfort and style.
As a guest, you will be welcomed with a complimentary drink on arrival, which you can enjoy in this relaxed setting, whilst your bags are delivered safely to your room!