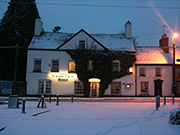 Castle View Hotel
16 Bridge Street
Chepstow
Gwent
Wales
NP16 5EZ
Tel: +44 (0)1291 620 349
Fax: +44 (0)1291 627 397

This Charming 17th Century, Ivy-Clad 3 Star Hotel is situated in a Prime Location along the River Wye and Directly Opposite Britains Oldest Stone Built Castle. The Attentive Staff Promise A Warm Welcome to Every Guest, Priding themselves on providing a Family-Run Feel to the Establishment. Initmate lighting and in-keeping decor maintain the Hotels Cosy Atmosphere, the perfect place to relax after a day on the road, or an afternoon of racing at Chepstows famous Racecourse.
Comprising of 12 En-Suite Bedrooms sharing features of the original building, inlcuding wall murials and oak beams, with unrivalled Castle Views. A Hand-Turned Oak stairwell spirals crookedly to the second floor and a Fabulous listed Stain Glass door leads to our secluded garden ablaze with colour during the summer months and still and tranquil through the winter season.
A Growing reputation for our Restaurant Food & Wine is yet another reason to Visit the Castle View Hotel, even if your not intent on staying over. The personal attention given to all guests during dinner service is what is lacking in many restaurants and eateries these days and its refreshing to be included in things instead of just being another customer. Produce is local and fresh, the service professional yet personal.
Castle View Hotel now has 13 en-suite bedrooms, as opposed to the 9 bedrooms with which the private residence of 'Woodfield House' was originally built. The thirteenth is known as number 14, so as not to tempt fate. There are two single rooms with the remaining eleven being either double-bedded or family rooms.
Rooms 2 and 4 contain wall murals which date back to the time the house was originally built, although today they are kept covered to protect them from fading in the sunlight.
At Castle View Hotel we aim to offer our diners a new selection of dishes each evening.
Regular favourites are always available although not always on the menu, we have a Reputation for Our Fantastic Mussels in Mariner Sauce.
Hereford is renowned for its Farming and Meat Community. We are privileged to have long standing relationships with these first class suppliers.
We Currently purchase all our Meat from HJ Edwards Family Butchers who Hang the Meat until its just right,
Keeping our ingredients at the highest standard and always Seasonal.
We offer a selection of vegetarian dishes and we are always as accommodating as possible with any guest with allergies.
Our Cellar is Stocked with a Variety of Wines from both the Old and New World.
Ranging from a selection of Reasonably priced house wines to some Finer Wines all suited to our dinner menu.
The Restaurant is always popular and We advise that any of our guests that wish to dine with us, should make reservations when checking in.