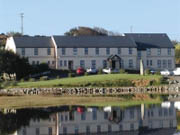 Caisleain Oir Hotel & Restaurant
Annagry
Co. Donegal
Ireland

Tel: +353 (0)74 9548113
Fax: +353 (0)74 9548113

Caisleain Oir, which literally translates as 'Castles of Gold'
Previously known as Teach Jack, it was beautifully renovated and opened its doors as Annagry's first hotel in 2002. The Cannon family were the founders of Teach Jack and the hotel still retains its long line of family connections. The Cannon family who have lived in the area for nearly 400 years since 5 brothers fled from Cromwell's Army after the Ulster Plantation in 1609. They left Conwall, near Letterkenny, and settled around the foot of Cnoc an Mhulai and Cnoc a Diaraigh, exactly where the hotel is located.
It is now owned and operated by the Mc Devitt Family, who take great pride in welcoming all their guests to their establishment.
Today, Caisleain Oir's impressive guest accommodation comprises of twenty beautifully refurbished en-suite rooms - all with tea and coffee making facilities, television and telephone.
Just One Mile from the hotel is Donegal Airport or Aerfort Dhun na nGall (www.donegalairport.ie), which provides ease of transport to this unique part of Donegal. The Services are provided by Aer Arann and the Aer Arann Crew regularly overnight in the hotelwww.aerarann.com
Guest accommodation comprises twenty en-suite,all with Direct Dial Telephone, tea and coffee making facilities, television. The madjority of the rooms overlook bay and it is a view to be savioured as you relax and unwind and take in the tranquility of the Donegal Gaeltach Area.
The bar and lounge are popular, with locals and visitors alike, for ceol, cainte agus craic. There is live music at weekends with a traditional session on a Saturday night.