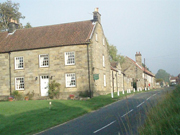 Burnley House
Hutton le Hole
North Yorkshire
England
YO62 6UA
Tel: +44 (0)1751 417548

Ideally situated only 2 1/2 miles from Kirkbymoorside.
Following a visit from the "Visit England" hotel inspector, we have been given the prestigious "Breakfast Award" in recognition of our use of local food, cooking and presentation. The inspectors are not all like the ones you see on television. They are really quite human.
On arrival you will be offered freshly brewed tea or coffee also a piece of something rather tasty. Whether you need a Weekday "just passing through quick stay" or visit for business reasons, a weekend break, celebrate that special event, or even a week or two holiday give us a call.
Leave your work and problems behind and let the time slip peacefully by while you gently wander the moors and listen to pheasants, partridge, green woodpecker & a host of other country birds or simply look at and admire the countryside with its rolling dales and hills dotted with quaint little villages where the locals can hardly be understood because of their broad, natural accents. We are awash with wonderful little eateries that are usually in pubs.
We have both double and twin rooms all en-suite some with bath, some with shower, some with both. The bedrooms are very tastefully decorated, with 22" colour TV/DVD player, Tele Text, hair dryer, bath robes, slippers and central heating. All rooms also have a complimentary tea and coffee tray which also contains drinking chocolate, shortbread buscuits and two chocolates per person, made by the local chocolatier.
Why not go on a cookery course while your here? The Arches Cookery School caters for all people and you gain additional skills you can use through out life.