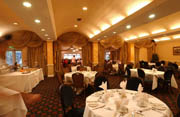 Brandon Hotel, Conference & Leisure Centre
Princes St
Tralee
Co Kerry
Ireland

Tel: +353 (0)66 7123333
Fax: +353 (0)66 7125019

Whatever the occasion, the Brandon Hotel Conference & Leisure Centre Tralee offers you a warm and friendly welcome in the heart of Tralee. Only minutes walk from Tralee town centre, it is the perfect location to relax after doing a spot of shopping, taking in the sights of Kerry or sampling the nightlife in Tralee.
Combining elegance and comfort, the Brandon Hotel Conference & Leisure Centre Tralee has been synonymous with quality since it opened in 1966. Our Hotel guests enjoy outstanding service, a charming and friendly atmosphere and elegantly furnished surroundings, not to mention state-of-the-art leisure facilities and a purpose-built conference centre.
Our rooms are specially designed to make you feel at ease.
Cosy, elegant and above all comfortable, all standard and deluxe rooms are fully equipped to meet the needs of today's business and leisure visitor. Facilities include direct dial telephone,
TV, complimentary toiletries, hair dryer and en suite shower and bath facilities.
We intend to make your stay as pleasant as possible, so do not hesitate to ask for anything you need!
Whether staying for business or pleasure, this is your place to relax, unwind and sleep well.
Escape from the pressure of everyday living and let the Sanctuary Spa transport you to another world. It's time to pamper your body, soothe your spirit and renew your zest for life. We offer you the ultimate spa experience whether you have an hour or a day to spend with us.