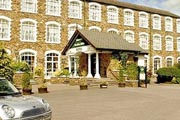 Blarney Woollen Mills Hotel
Blarney
County Cork
Ireland

Tel: +353 (0)21 4385011

Nestled in the picturesque village of Blarney, our intimate and exclusive boutique Hotel in County Cork is regarded as the ideal getaway to relax and unwind from the pace of modern life.
Our County Cork Hotel is located in Blarney, one of the most legendary places in Ireland and only minutes from Cork City. It is surrounded by breathtaking scenery and is rich in folklore, nostalgia and legend.
Today, Blarney Woollen Mills is famous the world over as a great Irish shopping experience where treasures from all over Ireland are gathered together under the rambling roofs of the old Mill. Those same roofs are also home of the Blarney Woollen Mills Hotel County Cork.
No visit to Blarney is complete without scaling to the dizzy heights of our world recognised attraction, Blarney Castle to kiss the Blarney Stone located only minutes away. legend has it that those who kiss it are granted the gift of Eloquence.
Offering boutique accommodation in Blarney and a hi tech fitness centre, the location of this Blarney hotel in County Cork is only minutes from Cork City, makes it ideal for hotel breaks in Cork, conferences, weddings and eating out in Blarney.
Your stay in this boutique Blarney Hotel is guaranteed to be a pleasurable experience.