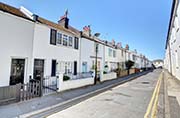 Best of Brighton Holiday Lettings
3 Kensington Place
Brighton
East Sussex
BN14EJ
Tel: +44 (0)1273 308779

Everybody knows Brighton and Brighton has something for everyone. Our amazing portfolio of properties reflects this and our local team can help you find your perfect match for your getaway. Perhaps golf-courses aren't the first thing that comes to mind when thinking of Brighton, but we are very lucky in that we have several amazing courses in Brighton for our holidaymakers to choose from when staying with us and in Brighton.
There are so many things to do in Brighton that you certainly won't struggle to find something to do during your time with us! In the summer you can snooze away the days on Brighton's famous pebbled beaches or take a walk along the promenade. In the winter you can explore one of the many attractions that the city has to offer – many of which we enjoy partnerships with.
If you time it right, you might coincide your visit with one of the amazing festivals Brighton plays host to - with the most popular being the multi-arts Fringe Festival in May and Brighton Pride in August.
During these festivals you can expect to see a host of entertaining performances across the arts, delicious food to taste from Sussex and worldwide, activities for the kids to get involved in, and colourful parades to dance along to. Visitors truly are spoilt for choice for events happening in Brighton all year round - make sure you book your Brighton accommodation early to avoid disappointment though!
If you're coming to Brighton for your golf and you want homely, self-catering accommodation – then give us a call and let us find your perfect property for your stay.